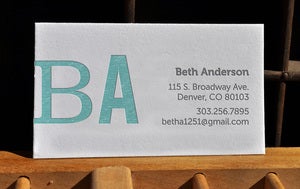 $

75.00 - On Sale
This class will be taught on TBD. Three students per class are allowed.
Learn how to print on a 1951 10 x 15 Chandler & Price press and a 3 x 5 Kelsy press. You will walk away from this workshop with 150 2-color business/calling cards.
These cards are very useful for a small business or as a personal card to pass on your address, phone number and e-mail. Each card is individually hand-fed and printed on a vintage Chandler & Price letterpress.
You will learn the basics of letterpress printing with antique wood type and photo-polymer plates. Students can either choose a design from the PDF here: http://www.meadowlarkcreative.com/dl/CallingCardWorkshop_details.pdf or you can submit your own design to have printed in 1-color.*
The design shown in this listing is the only one printed with antique wood type and photo-polymer plates, the rest will be printed with all photo-polymer plates.
Classes will be taught at Meadowlark Creative which is located 10 miles north in the rural countryside of Ft. Collins.
*Information for the cards must be submitted 10 days before the class. If submitting your own design, artwork must be received as an EPS file, fonts outlined, 2 weeks prior to the class. Students will need to agree on the same two colors to use for the class.
All designs © Meadowlark Creative